Christian Basics
How to Understand the Bible?
This article covers the reasons why Christians need to understand the Bible. It covers five activities and four steps to studying the Bible.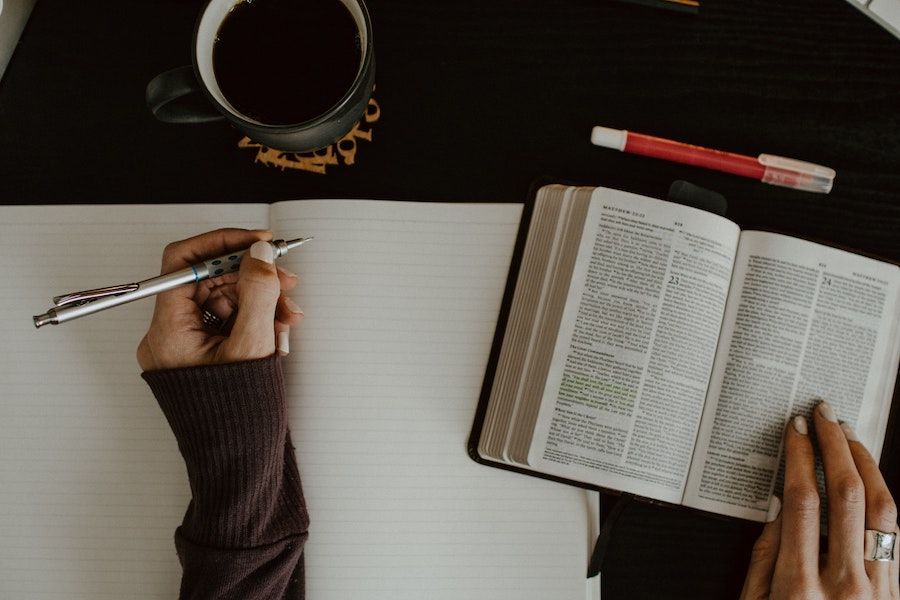 The Christian Basics series covers the basics of Christianity. This article explains how a Christian can understand the Bible.
Article Content
Why You Need to Understand the Bible?
How to Understand the Bible?
Bible Study Process
1. Why You Need to Understand the Bible?
We need to rightly handle the Bible.
"Do your best to present yourself to God as one approved, a worker who has no need to be ashamed, rightly handling the word of truth." (2 Timothy 2:15)
We need the Bible to spiritually grow.
"Like newborn infants, long for the pure spiritual milk, that by it you may grow up into salvation." (1 Peter 2:2)
We need the Bible to help us not sin.
"I have stored up your word in my heart, that I might not sin against you." (Psalm 119:11)
We need the Bible to help us fear God.
"Confirm to your servant your promise, that you may be feared." (Psalm 119:38)
We need the Bible to guides us.
"Your word is a lamp to my feet and a light to my path." (Psalm 119:105)
We need to trust the Bible is sufficient.
"All Scripture is breathed out by God and profitable for teaching, for reproof, for correction, and for training in righteousness." (2 Timothy 3:16)
2. How to Understand the Bible?
There are five things we can do to understand the Bible.
1. Hear It
The Bible states that hearing the gospel and God's Word, the Bible, is necessary for saving faith. Hearing God's Word brings spiritual blessing. Hearing God's Word is a first step to understanding God's Word.
"So faith comes from hearing, and hearing through the word of Christ." (Romans 10:17)
"But he said, "Blessed rather are those who hear the word of God and keep it!" (Luke 11:28)
"Also Jeshua, Bani, Sherebiah, Jamin, Akkub, Shabbethai, Hodiah, Maaseiah, Kelita, Azariah, Jozabad, Hanan, Pelaiah, the Levites, helped the people to understand the Law, while the people remained in their places. They read from the book, from the Law of God, clearly, and they gave the sense, so that the people understood the reading." (Nehemiah 8:7-8)
2. Read It
The Bible promises that the one who reads the Bible will be blessed. It is important to devote oneself to the reading of God's Word.
"Blessed is the one who reads aloud the words of this prophecy, and blessed are those who hear, and who keep what is written in it, for the time is near." (Revelation 1:3)
"Until I come, devote yourself to the public reading of Scripture, to exhortation, to teaching." (1 Timothy 4:3)
The gospel of Mark and the gospel of John are two great books to start for new Christians.
3. Study It
The people in Berea were commended because they studied and examined the Scriptures.
"Now these Jews were more noble than those in Thessalonica; they received the word with all eagerness, examining the Scriptures daily to see if these things were so." (Acts 17:11)
God wants us to search for wisdom and understanding like a person searching for valuable treasure.
"If you seek it like silver and search for it as for hidden treasures." (Proverbs 2:4)
Studying the Bible is more than just reading it. It involves careful observation, interpretation and application. Reading gives you an overall picture, but studying helps you think, learn and apply what you read.
4. Memorize It
The Bible commends the Bible memorization. It is critical as one battles with sin.
"How can a young man keep his way pure? By guarding it according to your word. With my whole heart I seek you; let me not wander from your commandments! I have stored up your word in my heart, that I might not sin against you." (Psalm 119:9-11)
Israel talked about God's word constant to the point where it would be committed to memory.
"You shall therefore lay up these words of mine in your heart and in your soul, and you shall bind them as a sign on your hand, and they shall be as frontlets between your eyes. You shall teach them to your children, talking of them when you are sitting in your house, and when you are walking by the way, and when you lie down, and when you rise." (Deuteronomy 11:18-19)
Jesus quoted the Bible from memory to help overcome Satan's three temptations. (Matthew 4:1-11)
"I delight to do your will, O my God; your law is within my heart." (Psalm 40:8)
Understanding the meaning or application of a Bible verse or passage will make memorizing it easier.
5. Meditate On It
Meditation is prayerful reflection on Scripture with a view toward conforming your life to God's will.
Meditating on the Bible can occur as you hear God's Word preached, as you read the Bible, as you pray about what you are studying, and as you reflect on the verses you have memorized.
"This Book of the Law shall not depart from your mouth, but you shall meditate on it day and night, so that you may be careful to do according to all that is written in it. For then you will make your way prosperous, and then you will have good success." (Joshua 1:8)
Meditating and thinking about God's word in your heart will have an impact on what you say and what you do.
"The good person out of the good treasure of his heart produces good, and the evil person out of his evil treasure produces evil, for out of the abundance of the heart his mouth speaks." (Luke 6:45)
3. Bible Study Process
Preparation:"What should I do beforehand?"
Prepare by praying to God for wisdom and understanding.
"Open my eyes, that I may behold wondrous things out of your law. Your hands have made and fashioned me; give me understanding that I may learn your commandments. I am your servant; give me understanding, that I may know your testimonies!" (Psalm 119:18, 73, 125)
"And so, from the day we heard, we have not ceased to pray for you, asking that you may be filled with the knowledge of his will in all spiritual wisdom and understanding, so as to walk in a manner worthy of the Lord, fully pleasing to him, bearing fruit in every good work and increasing in the knowledge of God." (Colossians 1:9-10)
Prepare by confessing and putting off our sin.
"So put away all malice and all deceit and hypocrisy and envy and all slander. Like newborn infants, long for the pure spiritual milk, that by it you may grow up into salvation." (1 Peter 2:1-2)
Observation: "What do I see?"
Examine the Bible passage closely. Look for key words, key subjects, commands and warnings. Notice words or phrases that repeat. Look for lists of things. Look for comparisons. See if there is anything unusual or unexpected.
Ask questions as you read, and write them down. Take time to make as many observations as you can. Your are not expected to understand the meaning during this step. As you make more observations, you become more prepared for the next step of interpretation which is the step to understanding the meaning.
Interpretation: "What does it mean?"
God has given us the Holy Spirit to illuminate us to be able to understand the spiritual truths in the Bible.
"But the anointing that you received from him abides in you, and you have no need that anyone should teach you. But as his anointing teaches you about everything, and is true, and is no lie — just as it has taught you, abide in him." (1 John 2:27)
Ask questions about the significance and importance of specific words (especially verbs), specific phrases, dates, names and titles. Find out what is the meaning of particular words. Ask why the writer is writing this, and what is the implication of the specific words, phrases and names.
To find answers to your interpretative questions, look at the context. Read the verses before and after the passage you are studying. Look at the context of the entire book that the passage is coming from. Look at the definitions of words, and look at the grammar and sentence structure. Look at other passages in Scripture that might help you understand your specific passage.
Use Bible study tools to help you:
Bible concordance

Bible dictionary or encyclopedia

Bible handbook

Bible commentary
There are a few general rules and principles to follow as you interpret the Bible.
All Scripture will agree. It will not contradict itself.
Seek to let the passage speak for itself in its context. Be careful not to draw conclusions that the author did not intend.
There is only one correct interpretation of any particular passage of Scripture. It is the author's originally intended meaning.
Application: "What effect will this have on my life?"
Once we understand the meaning of the Bible verse and passage we are studying, we need to take these truths and incorporate them into our everyday life and practice. The goal of studying the Bible is not to just understand its meaning. The final goal is to conform our lives to the obedience of God. Proper Bible study will change us and conform us into Christ's likeness.
"But be doers of the word, and not hearers only, deceiving yourselves." (James 1:22)
While there is one correction interpretation and intended meaning in a Bible passage, there are many applications.
One helpful acronym that we can use is SPECS. Is there a…
Sin to forsake?
Promise to claim?
Example to follow?
Command to obey?
Stumbling block to avoid?
Repeat Steps 2, 3 and 4 when studying each verse of the Bible. You can even break down a verse to an individual sentence, phrase or word. The more passes you make, the deeper its meaning is opened to you.
Final Thoughts on Understanding the Bible
We reviewed reasons why we should understand the Bible. We covered five actions we should take to understand the Bible: hearing, reading, studying, memorizing and meditating. We reviewed the 4 steps to study the Bible: preparation, observation, interpretation and application. These are the basic principles to help us properly understand the Bible.
Further Resources to Understanding the Bible